Being in a troubled family, Sylvia Likens received very little attention from her parents. Because of this, she began to spend more and more time with Gertrude Baniszewski, a sort of paid babysitter who would later become a nightmare in her life.
Gertrude and her children physically and emotionally abused Sylvia, leading to her death. This shocking case became known as "The Murder of Sylvia Likens" and resulted in multiple convictions.
Who was Gertrude Baniszewski?
Born as Gertrude Nadine van Fossan, she was the daughter of Hugh and Mollie van Fossan, the third of six siblings. Five years after her father's death, she dropped out of school and married John Baniszewski at the age of sixteen, with whom she had four children.
Ten years later, Gertrude ended her marriage with John and married Edward Guthrie, had two more children, and separated again in 1963. At the age of 34, Gertrude married Dennis Lee Wright, a twenty-three-year-old man who was extremely violent and aggressive.
They had a son, Dennis Jr, but shortly after that, Wright abandoned her and disappeared.
Gertrude faced financial difficulties, relying only on the child support she received from her first husband, John Baniszewski, and some occasional jobs in the neighborhood, such as sewing and domestic services.
Sylvia Likens and her relationship with her parents
Sylvia Likens was the third daughter of a couple of circus actors, Betty and Lester Likens. She was the middle daughter between two sets of twins: Diana and Daniel two years older and Jenny and Benny who were a year younger.
Sylvia Likens' parents' marriage was unstable, and they moved several times. Sylvia was constantly forced to stay with relatives or acquaintances when her parents were on tour with the circus.
At the age of 16, Sylvia had already lived at 14 different addresses. Previously she lived at her grandmother's house or traveled with her parents when they could not find anyone to take care of her and Jenny Likens (her sister).
His sister Jenny Likens
In 1965, Sylvia and her sister Jenny were living with their mother in Indianapolis, but soon she was travelling with the circus again.
Lester Likens, who had recently separated from Betty(mother of Sylvia), left their two daughters with Gertrude Baniszewski, mother of Paula, a girl the sisters had met.
There was an episode at the same time, when the girls' mother was arrested for shoplifting.This was the moment when she distanced herself from her daughters definitively.
Although Gertrude and her seven children were poor, Lester Likens, in his deposition, said he didn't went inside the house to see its conditions to receive his daughters, but encouraged Baniszewski to "set his daughters straight just as he did his own children."
Beginning of the abuses
In August 1965, Baniszewski began to offend, humiliate and beat Sylvia Likens, as well as allowing her children and other children to beat her too.
Baniszewski accused the girls of being prostitutes, and lectured the children about these matters, always using the Likens as a bad example.
There were rumors in high school about Likens saying two of Baniszewski's daughters were "having sex for money," according to Gertrude's version. Stephanie's boyfriend, Coy Hubbard, and other colleagues of his were invited to assist Gertrude beating Sylvia.
Sylvia's own sister, Jenny, was forced to beat the victim.
Soon Sylvia was taken out of school, and the abuse intensified further. One time, after accusing the girl again of being a prostitute, Gertrude called the neighborhood boys and forced Sylvia to stick a bottle of Coke in her vagina. From this moment on, Gertrude's delusions only increased.
Locked in the basement
The abuse intensified, and Sylvia was removed from school and prohibited from leaving the house. Later, she was locked in the basement and forced to ingest her own feces and urine. At that time, Gertrude, using a heated needle, tattooed on Sylvia's belly the phrase "I am a prostitute and proud of it."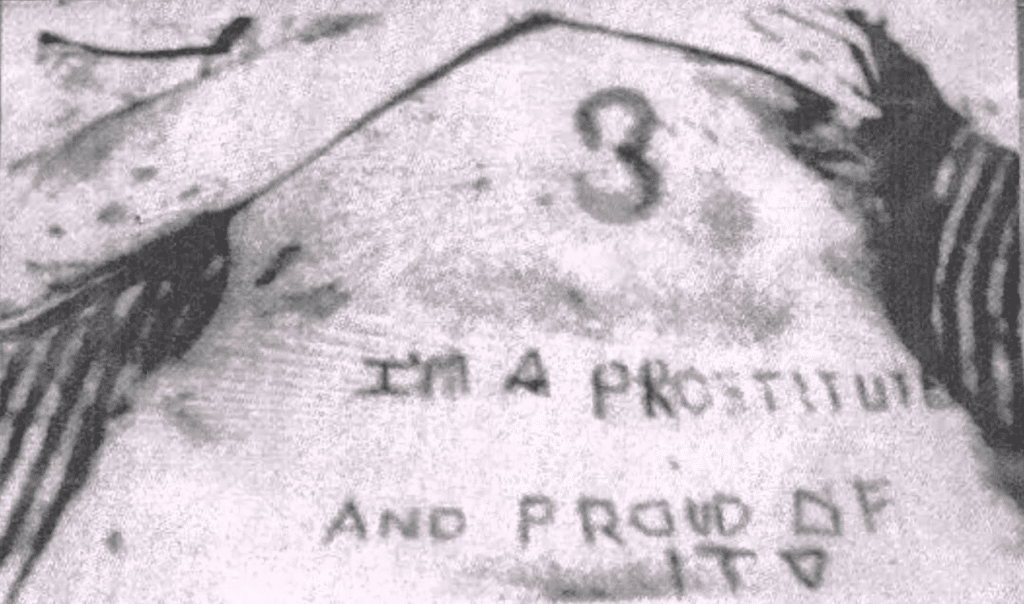 Gertrude also forced Sylvia to write a letter to her parents, in which she said she was a prostitute and would run away from home.
Sylvia tried to escape after hearing the woman was planning to leave her in the woods to die. Thin, weak and malnourished, she was caught, put back in the basement and beaten.
Death
On October 24, 1965, Coy Hubbard (Gertrude's daughter's boyfriend) violently struck Sylvia over the head with a broomstick. Two days later, after several repeated assaults, she died from a brain hemorrhage, according to medical reports.
As soon as Stephanie and the boy Richard Hobbs realized Sylvia was not breathing, they tried to apply mouth-to-mouth, but noticed it was too late.
The family then decided to call the police and show the letter which Sylvia had written, forced by Gertrude. Jenny Likens approached one of the policemen and whispered, "Get me out of here and I'll tell you everything.
Judgment
Baniszewski and his sons, Hobbs and Hubbard, were arrasted without bail until trial. An autopsy examination later revealed Sylvia had several burns, muscle contusions, and numerous physical injuries.
Near death, Sylvia's vaginal lips were almost separated from each other. Her vaginal cavity was swollen, but examinations proved she was still a virgin, and her hymen was intact. The official cause of death was cerebral hemorrhage, in addition to prolonged damage to her skin.
Gertrude Baniszewski was charged with first-degree murder. She was sentenced to life without parole.
After appealing, Baniszewski won a new trial, but was again convicted.During her 18 years in prison, Gertrude was a good prisoner, working in the sewing shop, becoming a kind of mother to the other inmates.
When it was announced she would be paroled from prison, there was great controversy in the Indiana community. Jenny Likens and her family appeared on TV to protest the release, human rights groups also spoke out, and over the course of two months a group collected signatures of Indiana residents against Gertrude.
Nevertheless, she was able to obtain her freedom, and pleaded guilty to everything that had happened to Sylvia. Baniszewski was released from prison on December 4, 1985 and traveled to Iowa, where she died of lung cancer five years later, on June 16, 1990, at the age of 60.
Fate of the involved people
Richard Hobbs died of lung cancer at the age of 21, four years after leaving reform school.
John Baniszewski, after the massacre at Westside Middle School, made a statement saying young criminals are not unrecoverable, describing how he managed to overcome his criminal past. He died in a Lancaster, Pennsylvania hospital as a result of complications from diabetes on May 19, 2005. He was 52 years old, married, and the father of three children.
Coy Hubbard, Stephanie Baniszewski's boyfriend who used judo blows against Sylvia, spent his life going in and out of jail and was charged sometime later with murdering two men. He died at age 56 of a heart attack on June 23, 2007 in Shelbyville, Indiana. He left behind a wife, five children, seventeen grandchildren, and one great-grandchild.
Paula Baniszewski, who was arrested with her mother at the age of seventeen, was sentenced to twenty years in prison. While imprisoned, she gave birth to a baby girl (initially named Gertrude) who was later adopted. She made an unsuccessful escape attempt from prison in 1971. In 1972 she received parole and assumed a new identity. She eventually married and had two children. Latest evidence states she was living on a farm in Iowa, with recent reports stating she was living in Marshalltown.
In the year 2012, a school assistant in the state of Iowa was suspended from the district's middle school. She had reportedly worked there as a substitute teacher since 1996. After an anonymous tip, which started with a rumor posted on Facebook, it was reported to the police a woman named Paula Pace was actually Paula Baniszewski, and wanted people to know about his criminal past.
The administration did not state the reason for Pace's suspension, but meetings were scheduled to discuss the case. After an investigation, Pace was fired by Conrad City Hall. According to the city hall representative, she allegedly gave false information during the hiring process, and refused to give further explanations.
Charges of participation of Stephanie Baniszewski, the second-oldest, in Sylvia's death were dropped after she cooperated with justice. She became a teacher and had several children.
The charges of participation in the crime of Anna Ruth Siscoe, Judy Darlene Duke, Michael John (Mike) Monroe, and Randy Gordon Lepper were dropped. Randy Lepper died on November 14, 2010 in Indianapolis at the age of 56.
On May 10, 2015, Sylvia's sister Diana, now using the name Dianna Bedwell, and her husband Cecil Knutson were reported missing by their son, Robert Acosta. Dianna and Cecil were seen gambling at one of the casinos in Valley View, California. Both were recorded by security cameras leaving the place around 2 a.m. by car, not appearing at their son's home in La Quinta.
Acosta contacted the police and appeared in the media asking for information about his parents' whereabouts. A fortnight later, on May 25, the couple was found in a remote part of California.
Cecil had died, and Dianna was severely dehydrated after surviving only on rainwater and some leftover food. Dianna was taken by helicopter to the hospital, having reported to investigators that she and her husband were looking for a shortcut when they got lost and bogged down their car. 
The rescue of Cecil and Dianna marked the tragic outcome of a terrible event that had begun months earlier with the unspeakable suffering of Sylvia Likens. Sylvia's story serves as a painful reminder of the cruelties that can exist in the darkest depths of human nature.