Kristin Rossum was born on October 25, 1975 in the state of Tennessee, USA. She had two other siblings and lived in the State of California and Virginia, as the family always followed her father's jobs.
In her early teens, Kristin attended an all-girls boarding school and it was there that she began drinking beer, smoking cigarettes, and even marijuana. In 1992, at the age of 17, Kristin was already a methamphetamine user.
In 1994 she enrolled in a university and tried to get off drugs, but after a relapse she dropped out and moved to San Diego. In 1995 she met Gregory De Villers and her life seemed to be going very well, she had quit drugs for good and was about to start a family.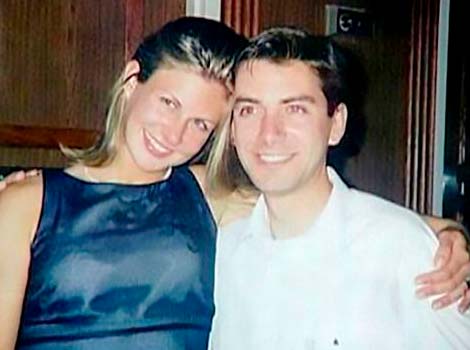 In 1998, she graduated with honors from San Diego State University and went on to work as a toxicologist in the city's medical examiner's office. Afterwards, the couple married in 1999 in a beautiful ceremony for friends and family.
Gregory De Villers doesn't show up for work
On the morning of November 6, 2000, at 7:42 a.m. Kristin called Gregory's work to inform them that he could not work because he was ill. According to his wife, Gregory wasn't getting up like normal. He was really sluggish, and his voice was slurred.
After that she went to work, around 8 a.m., while Gregory stayed home. Co-workers reported seeing her crying in the lab that morning. A witness reported seeing Kristin return home at 12:30 a.m., where she appeared upset and ran up the stairs.
Again she left and about 40 minutes later returned with groceries and lunch with Gregory. When Kristin asked why he seemed so sleepy in the morning, her husband replied that he had ingested some of her oxycodone and clonazepam, medications that Kristin had gotten to quit meth a while ago on medical advice.
In the afternoon of that same day, around 2:30 pm, Kristin returned to her work and Gregory stayed home to rest. During the afternoon she returned twice more to the apartment and finally, at 8:00 pm, she went home.
She said that when she arrived she realized that Gregory was asleep, kissed him on the forehead and went to the bathroom. When she returned to the room she realized that her husband's body was cold and he was not breathing.
Kristin immediately called the police at 9:22 p.m. and was told to put Gregory on the floor and perform cardiopulmonary resuscitation until the ambulance arrived. He was taken to the hospital, but Gregory, who was only 26 years old, was already dead.
At the hospital, Kristin even told a nurse that the cause of death could be an overdose of oxycodone. Gregory's family did not believe this story very much, and his brother decided to go to the apartment that night in order to find some evidence.
When he arrived there, everything seemed to be in order, there were rose petals scattered on the floor and the house seemed tidy, nothing looked suspicious. Everything indicated death by suicide.
Talking to the police
As the brother was leaving the apartment, he found Kristin accompanied by a man arriving on the scene. She introduced him as Michael, her co-worker.
The next day, during the interview with the police, Kristin was asked if there were reasons why Gregory would want to take his own life, and she said that the marriage was in trouble.
According to Kristin, Gregory had discovered an extramarital relationship. He would have been very hurt and jealous, and that this could have led him to commit suicide.
The initial autopsy revealed a large amount of oxycodone and clonazapam in Gregory's blood, which reinforced the hypothesis that he wanted to take his own life. With no further evidence, the investigation was coming to an end when the officers were surprised by a tape recording brought to them by Gregory's brother, Jerome.
Romance with a coroner
He confronted Kristin while recording the conversation. She admitted that she had a secret relationship with Michael, one of the coroners who worked in the same lab.
Upon realizing that Gregory's autopsy was performed by this same doctor, Kristin's lover, the investigators called in another coroner and the case headed towards a possible homicide. There could be a conflict of interest in the intent to hinder the investigation.
The new autopsy revealed that Gregory had been dead for at least an hour before the ambulance arrived, he had bronchopneumonia, and his bladder contained 550ml of urine. According to experts, a conscious person already feels the urge to urinate when his bladder reaches 150ml, and the need becomes urgent when it reaches 400ml.
Everything indicated that Gregory was unconscious for a period of 6 to 12 hours before his death, since bronchopneumia is caused by not expelling secretions from the lung, and is often seen in coma or heavily sedated patients. As for urine, hardly a conscious person would not rush to the bathroom.
It was discovered that the wife donated all of Gregory's organs and showed some urgency in cremating the body. Co-workers who were at the scene on the day of the first autopsy revealed that Kristin and Michael kissed while her husband's body lay on the stretcher next to them in the morgue.
The new toxicology tests showed a high dose of Fentanyl, in addition to the concentrations already found for oxycodone and clonazepam.
Fentanyl is considered the strongest opioid available for medical use in humans, with about 100 times the potency of morphine. It is highly valued for its analgesic and sedative effects and widely used in the management of severe pain and anaesthesia.

Fonte: UNODC.
At that time it was not standard to test for fentanyl in routine autopsies, since it is not an easily accessible or commonly abused drug. Such a protocol was known to Kristin, as she worked directly on these analyses.
An audit conducted at the lab where Kristin worked revealed that 15 fentanyl patches and 10mg of the same drug in injectable form were missing. Quantities of oxycodone, clonazepam and methamphetamine were also found to be missing.
Kristin is interrogated, but doesn't confess
One of the detectives confronted Kristin presenting all the evidence obtained, but she maintained her theory that her husband committed suicide. In order to collect more evidence, a warrant was issued to search Kristin's computer, and dozens of searches on fentanyl use were found.
In her e-mail box was found a record proving that Kristin and Dr. Michael, also married, had attended a week-long conference discussing the use of fentanyl.
On June 25, 2001, Kristin was arrested on murder charges. She spent six months in jail, until on January 4, when her family posted bail of over one million dollars. She won the right to await trial in freedom.
By this time Dr. Michael, who was not charged, had returned to his native Australia. He had been fired from the San Diego coroner's office as soon as rumors of his affair with Kristin spread.
Judgment
Kristin Rossum's trial began in October 2002, three medical experts were called in to help with the case and their expertise determined that no one with the amount of fentanyl found in Gregory's blood would be conscious and breathing.
They concluded that the drug would have been given to Gregory on several occasions during that period when he was unconscious before he died.
In November of the same year, Kristin was convicted of murder for being the perpetrator of a poisoning death. In December she was sentenced to life imprisonment without the possibility of parole.
Kristin Rossum is currently serving her sentence in Central California Women's Facility in Chowchilla. There are several documentaries about the case and two books have been written about it: Poisoned Love and Deadly American Beauty.