Lauren Giddings was 27 years old at the time of the crime and about to graduate from law school at Georgia State. Her focus was all on the bar exam, where passing would mean a position as a Public Defender, her dream.
Born in Maryland, she always made great efforts to spend the holidays with her family. Her father was her biggest supporter, as Lauren was the first person in her family to attend college.
Lauren lived alone in an apartment near the campus, her neighbors were all students. She used to study hard, but found time to attend her sister's wedding and quickly returned to her routine.
Last seen
Lauren was last seen on the morning of June 25, 2011 when she left the house to buy food. The next day, Lauren's sister sent her a message that was not answered. The family thought she was probably studying and would call later.
It is important to mention that a few weeks earlier, Lauren had commented to her family that when she returned home she always felt something strange, and sometimes the objects were in different places than the ones she had left them. At the time this did not matter much, since she was constantly busy and it could be just a mistake.
Days passed and family and friends began to suspect her missing. Lauren's phone was disconnected and none of her classmates had seen her in the last few days.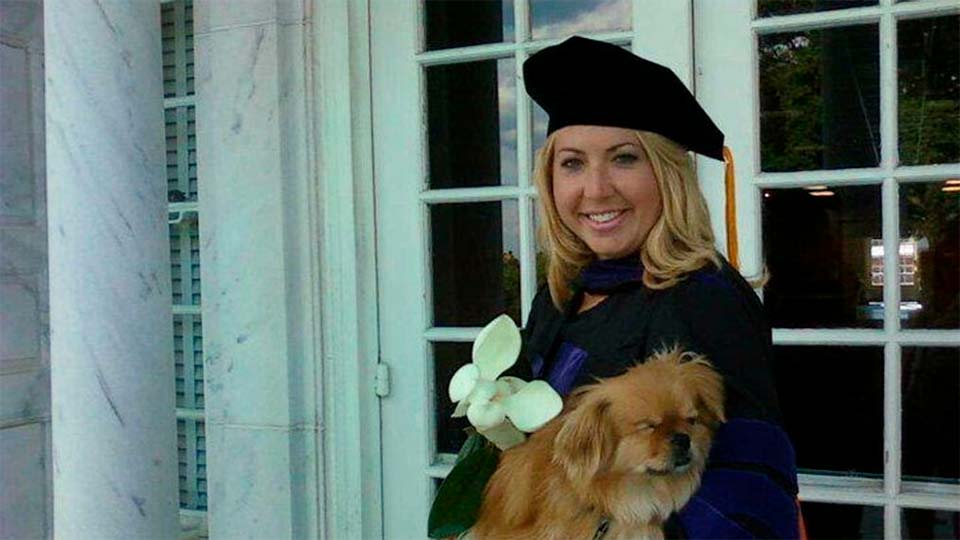 Lauren's sister, Kaitlyn, called the police while her father traveled to Georgia to search for his daughter. The investigation began in the victim's apartment, where nothing seemed out of place. Her cell phone, purse, and credit cards were on the table.
The officers were leaving the house when they noticed a strong smell coming from the garbage cans. Upon opening one of the bags, the authorities found a decomposing human torso, which further analysis would prove to be Lauren's.
From disappearance to murder
As in many other murder cases, the victim's boyfriend was the first to be investigated. But at the time of the crime he was in California and quickly his alibi proved solid, so Vincent was not considered a suspect.
The second step was to investigate the neighbors, asking if any of them had noticed anything strange or even seen Lauren during the past few days. A television station covering the case interviewed a young man named Stephen McDaniel.
In addition to being neighbors, Stephen had also taken some college classes with Lauren. The reporter asks how they met and if he had any information, the boy seems to answer normally.
But his expression changes completely the moment the journalist informs him that the police found a human torso and that everything indicated to be Lauren Giddings. Watch the full interview below and watch the 2:00 minute, when the reporter tells him that remains have been found.
Prime suspect
The police then requested a formal statement from Stephen. He seemed cooperative and when asked about the cause of the scratches on his arm, he claimed to have injured himself while sleeping.
Stephen didn't know it, but from that moment on he was considered a suspect. The police asked him to accompany investigators to a visit in his apartment. He agreed.
Arriving at the house, the police found many firearms and a collection of swords. They also found large amounts of canned food, a mask made out of panty, and many condoms.
In his previous statement, the young man said that he was a virgin and intended to have sex only after he was married. The police immediately questioned him about the need for the condoms and he said that he had stolen them, along with other belongings of residents of the building. He was taken into custody.
Still in Stephen's apartment, inside a closet, there was a mechanical saw that after analysis was found to contain human blood. Underwear with Lauren's DNA was also collected.
Inside his computer were thousands of photos and videos of Lauren on different occasions. Stephen photographed her coming and going from home, when she was taking out the garbage, and even while she was studying inside her apartment.
The browser history proved that Stephen was viewing Lauren's Facebook profile more than 100 times a day. There were also child pornography videos on his computer.
Stephen pleaded guilty to murder as part of a plea bargain that would extinguish charges of child sexual exploitation and theft. He also said he had a master key that could open all the apartments.
Details of the crime
Stephen broke into Lauren's apartment around 4:30 pm on June 26, dressed all in black and wearing a mask and gloves. Lauren was sleeping, Stephen approached her and watched her for several minutes until a noise on the floor woke her up.
Realizing that someone was inside her house, Lauren tried to defend herself and started a fight with the killer. She even removed Stephen's mask and recognized him, but this did not make him stop.
At one point they fell off the mattress and Lauren was trapped under the bed, she begged for her life but Stephen strangled her to death. All of this is said to have happened within 15 minutes and right after killing her, he dragged her body into the bathroom.
Stephen returned to his apartment as if nothing had happened and went about his day as usual, only in the evening he returned to the crime scene and began to dismember her. Some small parts of the body were flushed down the toilet and others were placed in garbage bags and distributed to neighboring garbage cans.
The criminal knew the garbage collection schedule and had everything planned, but an unforeseen event caused the garbage truck to be late, consequently there was enough time for the police find part of Lauren's body.
Trial and sentencing
Lauren knew Stephen, they talked a few times and once he asked her out, but she refused since she had a boyfriend. From that moment on they continued talking and greeting each other whenever they met, and Lauren was usually very nice.
Stephen received a life sentence in 2014, with no possibility of parole for the first 30 years. Due to the aggravating circumstances of the case, it is possible that he may never receive the right to parole.
In 2018, he claimed negligence on the part of his lawyer and reported police violence at the time of his arrest, thus requesting a review of his sentence. The judge denied it, and Stephen is currently serving his sentence.