Rebecca Marie "Becky" Watts was born on June 3, 1998 in Bristol, England. Because of her parents' divorce, Becky had lived with her father and stepmother since she was a child.
In addition, Becky had an older brother and also a stepbrother who was the son of her stepmother, Nathan Matthews. They did not live in the same house as Becky, but Nathan was frequently visiting his mother.
Becky was very fond of Nathan, one of the first words she spoke as a baby was the name of her stepbrother. But he did not return the feeling, Nathan was very jealous of Becky and treated her with contempt.
During her adolescence, Becky was bullied at school and even suffered from anorexia. After medical treatment she became healthy again, but her shyness and insecurity persisted. Becky's father says that she was even ashamed to go to the market alone.
Sudden disappearance
On the morning of February 19, 2015, Becky, then 16 years old, returned home after spending the night at one of her friends' slumber parties. They had a great time and watched movies all through the night.
The girl was tired, and after chatting with Anjie Galsworthy, her stepmother, she went to her room to sleep. Anjie suffered from multiple sclerosis, and on this day she left for a doctor's appointment at 11:15.
As soon as the stepmother left, Nathan and his girlfriend, Shauna Hoare arrived at the house.
When Anjie returned home, she couldn't find Becky. It was quite strange that she had gone out alone. Her laptop, cell phone, clothes and backpack were in her room, she didn't seem to have taken any belongings with her.
Missing
Becky Watts was reported missing around 4 p.m. the next day. The press was involved in the search, photos of the victim appeared on television shows, and her father and grandmother made live appeals on news programs.
An online campaign using the hashtag "#FindBecky" was launched on social media, reaching more than two million people worldwide.
As is common in teen disappearances, the police were not ruling out the possibility of a runaway, even if everything indicated otherwise. Searches were made in the area, as well as interviews with neighbors between February 19 and 23.
Investigation
The police talked to Nathan and Shauna, since they were the last to see Becky. They said that Becky had disappeared after leaving the family home, and that they had inferred this after hearing the door slam.
During the conversations with the couple, something caught the attention of the policemen, Shauna's behavior was quite strange. She did not show any concern and occasionally giggled during the police conversation.
Nathan, on the other hand, assumed that he did not like Becky; according to him, she was spoiled. The police decided to ask more questions as they were searching Becky's house again.
There they found a bloodstain on the wall, and on it was a fingerprint. Later, forensics confirmed that the blood belonged to Becky and the fingerprint belonged to Nathan.
On February 28, Nathan and Shauna were arrested, but were later released.
Police search at the couple's home
The police conducted a search of the couple's apartment, the house was dirty and messy, but something caught a lot of attention. The bathtub was very clean, there were no stains at all, this stood out from the rest of the house.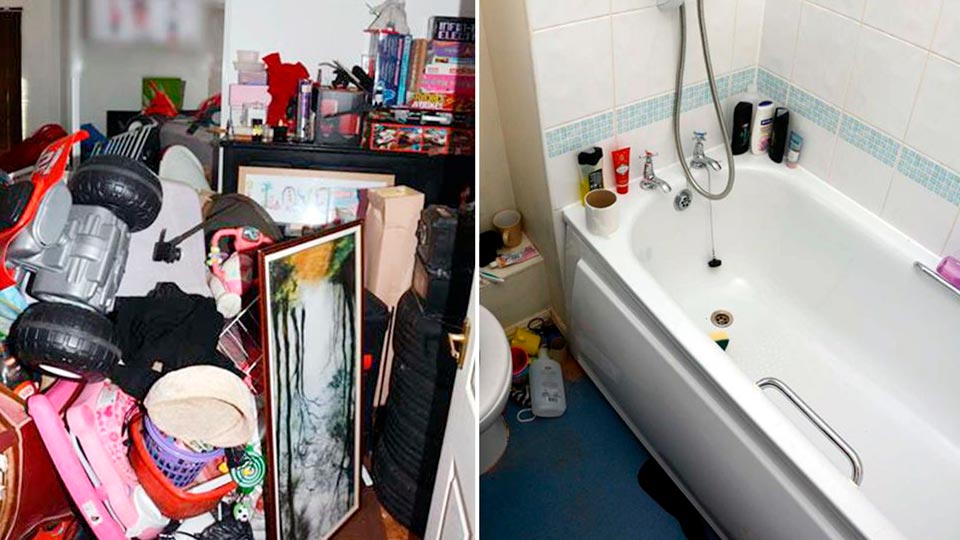 On March 2, they were arrested again on suspicion of murder, because of security camera footage from a market where Nathan is shown buying a circular saw, gloves, goggles and cleaning products.
The next day, Becky's dismembered body was found in Barton Court. On March 4, Nathan Matthews was charged with murder. From this point on he assumed guilt, saying that his intention was only to kidnap her, but something got out of control.
According to him, Becky needed to learn to love her family and be less spoiled, and after the kidnapping she would be able to improve the aspects that he thought were wrong. On June 22, Shauna Hoare, who was charged with perverting the course of justice, was also charged with murder.
Nathan repeatedly claimed that his girlfriend did not know about the murder, that she was in the garden at the time of the crime. But due to text messages from the couple from months ago, where they planned in detail to kidnap a teenage girl to satisfy a sexual fantasy, the police did not believe Nathan's version.
Judgment
The trial began on October 6, 2015 at Bristol Crown Court. The prosecution said that Becky was suffocated in her bedroom during a "sexually motivated" kidnapping.
Also according to the prosecution, after the murder, Nathan and Shauna put Becky's body in the trunk of their car and stayed in the house for a few more hours, during which time other family members arrived home. 
Later that day, they took the body out of the trunk and dismembered Becky using a knife and a circular saw and put the remains in bags and boxes, which were hidden in a neighbor's shed.
Shauna described the text messages with Nathan about kidnapping girls in previous months as "unfortunate" and "sarcastic." The prosecution claimed that the text messages between them, as well as other content found in their home (photos containing child pornography), suggested "shared unnatural interest in attractive teenage females".
On February 19, 2015, before going to Becky's house, they were seen in a supermarket buying batteries, which were supposed to be needed for the stun guns they intended to use in the kidnapping. The records suggested premeditation, Nathan knew that his mother would be out of the house and this would be the perfect time to act.
Sentencing
On November 11, 2015, the jury found Nathan Matthews guilty of murder, while Shauna Hoare was guilty of manslaughter. Both were also convicted of conspiracy to kidnap, perversion of the course of justice, preventing a lawful burial, and possession of two stun guns.
On November 13, 2015, Nathan Matthews was sentenced to life in prison with a minimum sentence of 33 years and Shauna Hoare to 17 years in prison. 
The judge agreed with the prosecution's charge that the planned kidnapping was for a "sexual purpose," telling Nathan that he had "a fixation on having sex with young teenage girls" and that he believed Shauna had been "persuaded to participate in the crime."
As the trial came to a close, the judge paid tribute to Becky's family.
"Finally, I should like to pay public tribute to the family of Becky for the dignified way in which they have conducted themselves throughout these proceedings. Hearing the evidence during the trial has been difficult for anyone, but it is plain that it has been an immense burden for the family," he said.