The massacre at Kerch Polytechnic College was a school massacre that took place on October 17, 2018, in the town of Kerch on the Crimean peninsula, which was annexed in 2014 by Russia.
Vladislav Roslyakov, aged 18 at the time of the crime, shot and killed 21 people, including himself, who committed suicide after the massacre, and injured around 70.
Wearing a white T-shirt and black pants, he wore clothes very similar to one of the perpetrators of the famous Columbine High School massacre, which occurred in a school in the United States in 1999. Indicating strong possibilities that his inspiration came from him.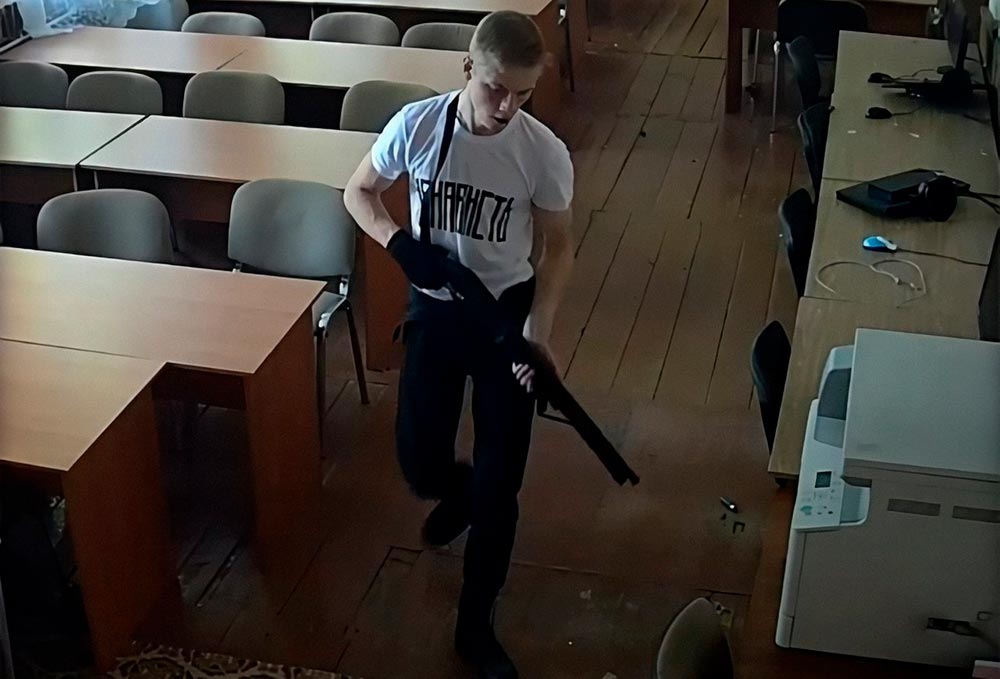 Who was the perpetrator of the murders?
He had been a student at the school since 2015, and was in his senior year. His parents were divorced and he lived with his mother, who worked as a nurse at a local medical clinic. The young man had no social network with his name on it.
The shooter's ex-girlfriend, a 15-year-old who did not have her identity revealed, told a Russian channel that him intention was to take revenge on the students who humiliated him.
He said that he no longer trusted people since his classmates started to humiliate him because he was not like the others. (…) When we talked, everything was fine, he was good and sensitive, and he helped me when I was bad.

Said his ex-girlfriend.
The attack
The perpetrator bought a gun a month before the massacre and ammunition just a few days before. All purchased legally in a specialty store in the area. He had passed the psychological tests to carry a gun.
Vladislav began the attack at Kerch Polytechnic College by setting up two homemade bombs at the school. One did not explode and was later disarmed by police, while the other, which was a nail bomb, exploded in the cafeteria and injured several students, who had to amputate members of their bodies to survive.
He then began walking around the school and randomly shooting people and objects. He shot everyone in front of him, including teachers, students, and even objects.
In total, including dead and wounded, the number reached almost 100 people. Of the 20 fatalities, 15 were students and five were employees. Nine were under the age of 18, and the youngest victim was 15.
Suicide
After carrying out his massacre and running out of ammunition, the student committed suicide in the school library, shooting himself in the head.