Christa Gail Pike was born on March 10, 1976 in West Virginia, USA. Her father was absent during her childhood, and her mother, Carissa Hansen was an alcoholic, drug addict, and often seen at bars and parties.
From the moment she was born until she was 12 years old, Christa was a normal and happy child. Everything changed when she had to move to live with her mother, after the death of her maternal grandmother who had raised her until then.
ARTICLE CONTINUES AFTER ADVERTISEMENT
According to reports, in the very first week she spent with her mother she was stimulated to use drugs. She would spend her nights on the street smoking marijuana, always surrounded by drug users that, many times, were introduced by her own mother.
Christa dropped out of school, was constantly drunk, and also reported experiencing physical violence from one of Carissa's boyfriends.
Troubled adolescence
Didn't take too long to Christa Pike be arrested for theft and given a 30-day sentence in a juvenile detention. Her time in prison was very good, because there was no access to drugs and she became interested in rehabilitation activities.
Christa joined a social-educational program called Job Corps, aimed at low-income youth. She decided to study to become a nursing technician. But, unfortunately, instead of studying, Pike decided to focus on boys.
There she met Tadaryl Shipp, he was a year younger and was also participating in rehabilitation programs. They began dating and developed a fascination with Satanism and the occult.
ARTICLE CONTINUES AFTER ADVERTISEMENT
Shadolla Peterson, 18, also became friends with Christa and began attending occult sessions together with the couple.
Colleen Slemmer, lured to death
Christa had an obsessive behavior with her boyfriend and was very jealous. As time went by, and for no apparent reason, she began to suggest that Colleen Slemmer, her classmate, was hitting on Tadaryl.
So she convinced both Tadaryl and Shadolla that Slemmer needed to be "sacrificed in the name of Satan". Apparently, none of the friends objected, and they began to create a plan.
On January 12, 1995, they invited Collen to drink and chat in a forest area next to their dormitory. They lured Collen there with the excuse that they would smoke marijuana and there they would hardly be caught.
As soon as they arrived, Collen realized that something was wrong. So she tried to apologize for any misunderstanding, but before she could finish her sentence she was attacked by Christa and Tadaryl.
ARTICLE CONTINUES AFTER ADVERTISEMENT
Shadolla stood watching the scene while they kicked, beat and killed Colleen Slemmer by throwing a rock at her head. A pentagram was carved into her chest with a pocket knife, and Christa took a piece of her skull as a souvenir.
Merciless
Bragging about her crime, Christa began to show off her "souvenir" to her classmates and friends. Without showing any remorse, she began to insinuate that this was what happens to those who tries to steal her boyfriend.
Rumors spread fast and within about 36 hours the couple and their friend were arrested. The police found the piece of the victim's skullcap inside Pike's jacket pocket. A satanic bible was also found in Tadaryl's dorm room.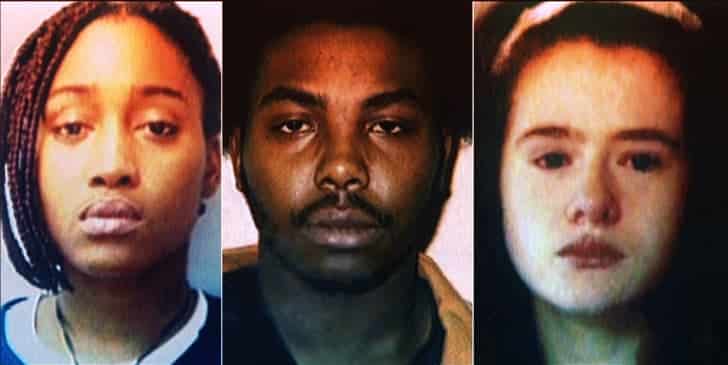 Soon after her arrest, Christa confessed to torturing and killing Collen, claiming that the idea was just to scare her, but the situation got out of hand. The police did not believe the statement, since the scene gave many indications of premeditation.
Trial and sentencing
Christa Pike was charged with first-degree murder and conspiracy to commit murder. On March 22, 1996, after only a few hours of trial, she was found guilty on both counts.
ARTICLE CONTINUES AFTER ADVERTISEMENT
On March 30 of the same year, Christa Pike was sentenced to death for the murder, and another 25 years in prison for the conspiracy charge.
Tadaryl Shipp received a life sentence with the possibility of parole after 25 years, since he was still a minor at the time of the crime.
Shadolla Peterson, received probation for pleading guilty and cooperating with inside information about the case.
Attempted murder
Christa Pike's defense tried to appeal in several ways and succeeded in delaying the execution of her sentence. On August 24, 2001, Pike attempted to kill another inmate by strangulation.
In March 2012, a police investigation revealed that Christa was plotting an escape with the help of a prison guard. The man was arrested, but later responded at large as he claimed collaboration under a death threat.
ARTICLE CONTINUES AFTER ADVERTISEMENT
Scheduled execution
On August 27, 2020, the Tennessee Attorney General's office asked the Tennessee Supreme Court to set an execution date for Christa Pike.
Due to the pandemic and various other factors, Pike's lawyers were able to get a postponement of the case, allowing them more time to argue why she should not be executed.
The court is expected to rule on the matter soon. If the verdict goes against Christa, she will be the first woman to be executed in Tennessee in nearly 200 years. She is still waiting on death row.