Maria Matilde Martins de Jesus was born on January 14, 1955, on the island of Madeira, Portugal. She had 11 siblings, they all lived in rural areas, and made their livelihood from this.
During her adolescence, Maria met a young boy at school, his name was Fernando. The romance ended when the young boy, at 18, joined the army and died during a mission in Angola. She always spoke of him fondly, and according to her family, Fernando was the great love of her life.
When Maria was 19 years old, she met another man named Manoel, and they married and moved to Australia. In 1976 the couple moved to Greenville, and together they had a daughter named Laura.
Unfortunately, when Laura was 9 years old, her father Manoel passed away after a heart attack. They were left alone, and the painful situation strengthened their bond as mother and daughter.
Joseph William Korp, a big liar
After being widowed for some time, Maria began a relationship with the manager of the tire factory where she worked, Joseph Korp, or just Joe as he was known to his friends.
Joe was an ambitious man who liked group sports and somewhat womanizer. He hit on several women and insisted until they agreed to go out with him, after which he became possessive. His first wife and daughter were forbidden to wear makeup.
When Joe met Maria, he was still married to his first wife and had two children from that relationship. However, he asked Maria out on a date and omitted the information that he was married. One of Joe's tactics was to never wear a wedding ring so that he could pose as a single man when it was convenient.
Months later, unbeknownst to Maria, Joe Korp divorced his first wife. Soon after, he asked Maria to marry him, they were married on October 29, 1991, and two years later Damien, the couple's only son, was born.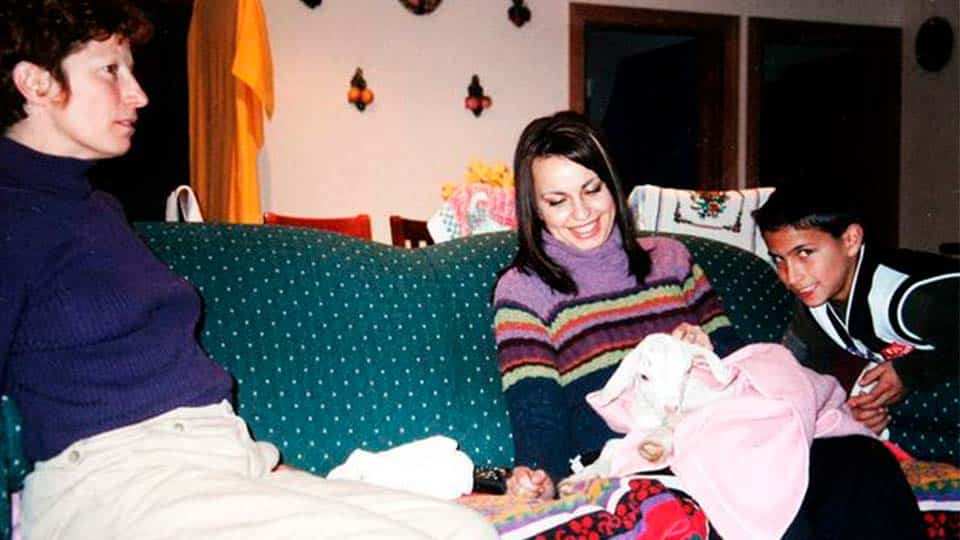 During a visit by Maria to her family in Portugal, Joe Korp was totally obnoxious, belittling her family's humble lifestyle. The family, embarrassed by the situation, turned a blind eye to the situation and trusted in the happiness that Maria seemed to have.
The dream house
In 1998, Joe Korp bought an 8-acre plot of land where he planned to build a family home. The work took seven years, and when completed the property had five bedrooms, two bathrooms, a movie room, a shed, an office, a huge garden, and even a chapel for Maria who was extremely Catholic.
In the year 2000, Maria usually left her job around 3 pm and then picked Damien up from school, but on February 9, 2005, this did not happen. Joe Korp received a call from his son's school, saying that Maria had not picked up the boy, he said he didn't know what had happened and quickly went to the school.
When Joe arrived home, he noticed that Maria's car was not in the garage. Around 5:30 pm he left the house to look for Maria in the neighborhood, and as he was unsuccessful, at 7 pm of the same day he went to the police to report her missing.
Searches for Maria Korp
In missing wives cases, it's common for the husband to be the first suspect, and that's how the police worked by confiscating Joe's cell phone. But the investigation on the phone revealed nothing, only that Joe had not spoken to his wife that day.
When questioned by the police, Joe said that he and his wife were having problems in their marriage, but that he didn't believe that this was enough for her to run away, especially because according to him, Maria was a great mother and would never abandon her children.
So far there had been no evidence of kidnapping or murder, bank accounts had not been touched, and Maria's cell phone call history showed no strange calls.
The case only seemed to move forward when Maria's work supervisor was heard and reported that she had not shown up for work that day, and the day before had been late because she was in court removing a restraining order against her husband for domestic violence and intimidation.
On the evening of February 9, Joe's brother Gust Korp called the police and said that he believed Joe was involved in the case in some way, since he had received a phone call from his brother saying only: Gust, I'm screwed.
Two other relevant pieces of information were given by the brother, he said that Joe had forced Maria to change her will, so he would be the sole beneficiary. In addition, his brother said that he had a mistress named Tânia Herman.
He even said that besides Tânia, Joe had relationships with several other women, since his brother always commented that Maria had many sexual restrictions due to the fact that she was Catholic and did not satisfy him sexually.
It is important to mention that Joe put a lot of pressure on Maria in sexual matters, for a while she started wearing clothes that showed more of her body against her will, just in order to please her husband. She believed that it was totally her fault for being betrayed, since her sexual behavior was not enough for Joe.
Maria lost a lot of weight and became quite depressed at this time, but she kept fighting to save her marriage at all costs.
Laura, Maria's daughter, was also heard and said that morning she heard a scream coming from the front of the house around 6:30. The police took note of this information, which would later fit into the outcome of the case.
A co-worker of Maria's also went to the police station with a plastic bag. She said that Maria had left it with her and told her to give it to the police if anything happened to her, and that the contents of the bag would reveal who Joseph Korp really was.
In the bag there were strange and even useless things like a hose, some receipts, a fake badge, a diary of Maria's written in Portuguese, and a sexy photo of a blonde woman that would be Tânia Herman. This proves that Maria knew about her husband's extramarital relationship before she disappeared.
Who was Tânia Herman?
Tânia met Joe on a dating site in 2003. She was a single mother of a little girl and had been married twice before she met him.
In opposition to Maria, Tânia was audacious in sexual matters. She liked to try new things, but she also had the goal of remarrying someday. She did not know that Joe was married, and while he was with her he used a false last name. The man frequented her home and gave many gifts to her and her daughter.
At one point Joe talked about his marriage, and Tânia was devastated by this, but was too much in love to leave him. He also spoke very badly about Maria, making her a very bad person in Tânia's eyes.
Questioned for the second time
At 2pm on February 10, Joe Korp was questioned again and when asked about the restraining order, he said that months earlier she had kicked him out of the house and thrown all his clothes in the street upon discovering a betrayal. On that date he claimed that Maria had changed all the locks and that he had also never hurt his wife.
He said that the restraining order would have been a kind of revenge, where Maria claimed that she had suffered violence in order to damage his reputation. Soon after they would have made up, and Joe said he would not repeat the mistake. Still in front of the cops, he said that on that same day he broke up with Tânia and they never spoke to each other again.
After leaving the police station, two plainclothes policemen followed him, Joe drove a few blocks, stopped next to a garbage can and discarded a black plastic bag. The police collected the object and inside it were found a spare key to the house, a balaclava, a walkie-talkie, a jar with a white powder, photos, receipts and a notebook.
A new search was conducted that night at the Korp family home, where an access card from Joe's company was found and collected, which later proved that he was embezzling money from the company.
Laura told the police that Joe was acting strangely and was already planning his mother's funeral. Meanwhile, another team was at Tânia Herman's house taking her statement.
Tânia Herman talks to the police
Tânia was very cooperative, gave all the information requested, and said that Joe never ended his relationship with her. During the conversation, Tânia made a point of showing the rental contract for her house, where Joe Korp had jointly signed as one of the residents.
A crumpled up paper list was found in the trashcan in Tânia's house, and it said: gloves, balaclava, shampoo, conditioner, socks, and a knife.
When asked why she didn't go to work on February 9, Tânia said that her daughter was sick and needed to stay home with her, which was proven by the testimony of the teachers at the girl's school. And later that day, around 10 a.m., she had gone to Joe's work and delivered a sandwich to him.
She concluded her statement by saying that she was very angry with Maria because she had been a hindrance in her relationship with Joe, but that she couldn't imagine why she was missing. Joe told her that he would not ask Maria for a divorce because he did not want to give up the house that took seven years to build.
February 13, Maria Korp is found alive
Through an anonymous tip, Maria Korp's car, a red Nissan Mazda, was found parked near the Shrine of Remembrance, in Melbourne.
She was found in the trunk of the car, unconscious, with head injuries and severely dehydrated. Maria was taken to the hospital, there she was placed in an induced coma and put on life support.
Three days later, police charged 47-year-old Joseph Korp and 38-year-old Tânia Herman with attempted murder, conspiracy to murder, and intent to cause serious injury. They were taken into custody the same day.
Tânia confesses all
Tânia confessed to the crime on June 8, saying that it had all been planned by Joe Korp. She had surprised Maria that morning and they had a fight, and after a few seconds she threw the victim to the ground, and at that moment Maria suffered a strong hit on the head.
The police investigation believes that at this point Maria Korp would have screamed, a fact that matches Laura's statement. Soon afterwards, Tânia put Maria in the trunk and drove to the place where the car was later found.
She said that Joe had instructed her to remove all of Maria's jewelry, and so she did. Tânia stated that after putting her in the trunk she was unable to confront her again, leaving the scene without knowing if Maria was actually dead yet.
The investigation suggests that Joseph Korp's intention was to get rid of both women and to take advantage of Maria's will, since one would be dead and the other woman would be imprisoned.
Tânia Herman was sentenced to 12 years in prison without the right to parole for the first nine years. Joe Korp pleaded not guilty to all charges and was later released on bail on June 9 and submitted for trial. He even won the right to visit his wife in the hospital under police supervision, where he kissed her and said a prayer.
Meanwhile, Maria Korp's prognosis was quite negative, and on July 26 her condition was described as terminal. She died at 2 a.m. on Friday, August 5, 2005, and was never able to say what happened or name the perpetrator.
Sudden suicide
A week after Maria's death, Joe Korp was found dead in his home. He was hanging on the side of a ladder, with a noose around his neck. Around his body were pictures of Maria scattered on the floor and notes claiming his innocence.
The coroner's report confirmed that he was quite intoxicated at the time of his death. The media suggests that he was talking to his lawyer on his cell phone at the time of his death, not yet sure what he was doing, and that a possible stumble on the stairs would have caused the premature hanging.