Lacey Ellen Fletcher was born on November 25, 1985, the daughter of Sheila and Clay Fletcher. Her father worked as a police officer, and her mother was a member of the local council.
The family lived on a ranch in the city of Slaughter, Louisiana, USA. The area has large plots of land, so it's quite common for there to be several good kilometers between you and your neighbors.
Social isolation
During her adolescence, Lacey began to isolate herself at school, and from the ninth grade onwards, she was homeschooled. Before that, everything seemed normal, the girl had friends and even participated in the school's volleyball team.
She suffered from social phobia, a consequence of being on the autism spectrum. Despite undergoing therapy for three years, Lacey seemed to be getting worse. According to her parents, at one point, one of her psychiatrists suggested hospitalization, but the girl herself did not accept the idea.
"Lacey Fletcher was one of the sweetest people you could meet, making friends while studying at her small private school."

An ex-classmate revealed to DailyMail.

Last seen
The Fletcher's neighbor, Robert Blades, said he last saw Lacey in 2005. At that time, the girl was 21 years old and was outside doing exercises.
Robert said she had always been very thin, and it was common for him to see her carrying dumbbells and doing gymnastics in the backyard.
From that date onwards, neighbors claim they haven't seen Lacey anymore, but her parents were very active in the community, even acting as pillars of the local church.
"Lacey stopped breathing"
The story of Lacey Flatcher came to public attention after the local police responded to a 911 call from her mother on January 18, 2022. The responders had to deal with an unbearable smell and a horrifying sight.
Lacey, who allegedly suffered from Locked-In Syndrome, was found sitting on a worn-out couch with traces of urine and feces. She had ulcers on her buttocks and was infected with COVID-19.
Locked-In Syndrome: a condition of almost complete paralysis. Alertness and mental function are unaffected. People cannot make facial expressions, move, speak, or communicate on their own, but they can move their eyes up and down and blink.
She was partially naked, wearing only a shirt that was pulled up, exposing her breasts. Her body filled a deep hole in the couch, and there were larvae in her hair. Insects and rat feces were around her, a scene that didn't match the rest of the house, which seemed clean and tidy.
She was pronounced dead at the scene. The scene was devastating, and the police were called, but Lacey's parents seemed unable to explain why their daughter was in that state.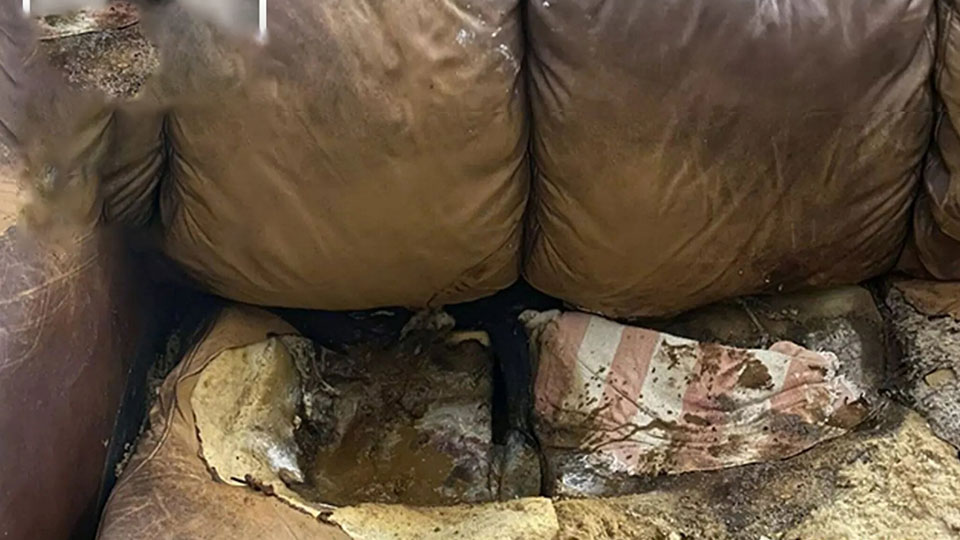 Neglected by her own parents
The coroner's report stated that Lacey had died between 24 and 48 hours before her body was found. The analysis completely contradicted her mother's statement, who claimed to have seen her alive about 12 hours before.
It was believed that Lacey Fletcher had been left on that couch in the same spot for many years. Despite her deteriorated condition, her parents claimed that she hadn't been to a doctor in ten years.
They, who were also her caregivers, were convicted of second-degree murder of Lacey as a result of negligence.
$600,000 Bail
After a night in custody, Lacey's parents posted a $600,000 bail through a bail bondsman. The couple refused to speak to the press and continued to tell the police that it was their daughter's choice to relieve herself on the couch and remain seated there.
According to the parents, they brought meals for their daughter and always tended to her wounds, even though Lacey never showed any discomfort about them. After their daughter's death, Sheila posted a photo of her on her Facebook with the caption: "Mommy and daddy love you so much."
Trial
A grand jury of 12 people in Clinton first indicted Lacey Fletcher's parents, Clay and Sheila, for second-degree murder on May 2, 2022.
On May 8, the defense attorney for the Fletchers, Steven Moore, filed a motion to dismiss the charges against his clients, arguing that the prosecutor's office presented different documents from those filed in the local clerk's office.
The couple was expected to stand trial for the charges at the end of the same month.
On May 30, District Judge Kathryn Jones of the 20th JDC granted a motion to dismiss the charges. This action came after questions were raised about the wording of the indictment by the defense attorneys.
Current Status of the Case
The couple remains out on bail at this time. It is believed that a new trial will take place by the end of the year 2023.
The Lacey Fletcher case is still very recent and has not had a definitive legal outcome. We are likely to have updates soon, and I will surely bring all the details here for you.