Bethany Anne Decker was born on June 29, 1989, in Cumberland, Maryland. She grew up in West Virginia and later moved to Ashburn, Virginia, to attend George Mason University.
At the time of the crime, Bethany was already the mother of a three-year-old boy, the fruit of her marriage to Emile Decker in 2009, a military man who frequently carried out missions in Afghanistan. Bethany could always count on her paternal grandparents to take care of her son.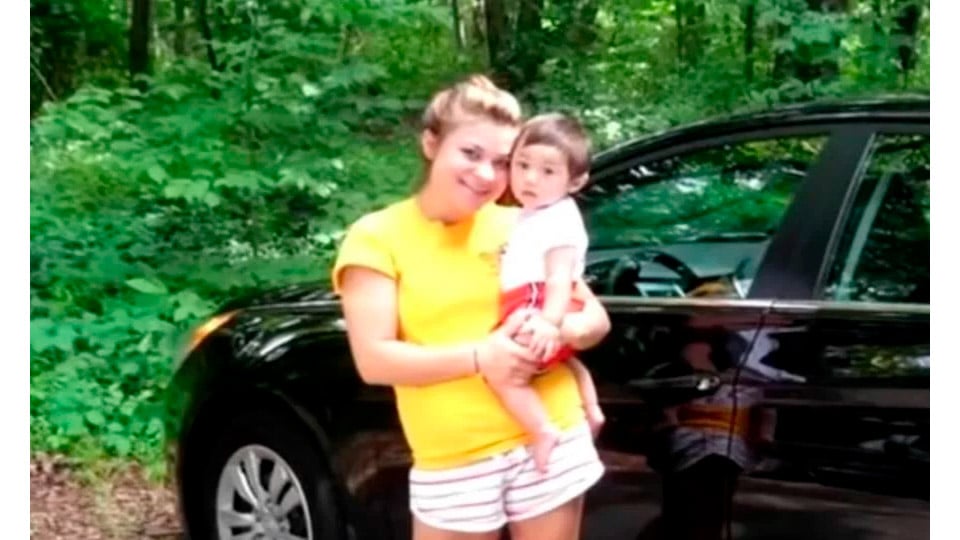 She was five months pregnant with her boyfriend Ronald Roldan, a Bolivian with a criminal record. Offenses included an arrest for identity theft and subsequent convictions for public intoxication and destruction of property following a 2006 incident in which he broke a woman's car window.
Roldan maintained an extramarital relationship with the young woman during periods when her husband was serving missions assigned by the army.
The two had a very complicated relationship, marked by many episodes of physical and emotional violence. Several times a day, he demanded that she send him a picture of herself to show where she was and who she was with.
By 2011, Bethany was working part-time as a waitress at Carrabba's Italian Grill in Centerville and taking classes in the Global and Environmental Change course at George Mason University.
Timeline
Investigators have released a timeline that places Bethany in Columbia, Maryland on January 29 with family members, including her grandmother and her husband, Emile Decker. The young woman's mother, Kimberly Nelson, said she spoke with family members by phone.
Two weeks earlier, Emile Decker returned from his mission for a month's leave. During this time, he and Bethany went on vacation to Hawaii for two weeks. Emile's parents were unaware of the couple's marital difficulties and didn't even know about her affair with Ronald.
On the evening of January 29, Bethany Decker returned to her apartment in Ashburn, where her boyfriend and lover, Ronald Roldan, told investigators he saw her.
On February 2, Emile Decker, described as Bethany's "estranged" ex-husband in the court documents, left for another mission in Afghanistan. Bethany Decker did not show up to say goodbye to him.
For the next three weeks, family members did not report Bethany Decker missing; they believed she was too busy with personal tasks.
It is important to mention that messages to her friends, supposedly from her, continued to be posted on her Facebook account.
On February 19, Bethany's grandparents decided to drive to her apartment while traveling to see their great-grandson. They found their car parked at an unusual angle, with a flat tire and noticeably dusty. Although her purse and cell phone were inside the apartment, Bethany was not there, so they contacted the authorities.
Investigation
Investigators found that Bethany Decker had not used her bank accounts or cell phone since the last day she was seen, nor had she gone to work or attended classes.
Suspicion fell on Emile and Roldan, as both may have a motive for hurting the young girl due to the love triangle they were involved in.
With the help of the Army, they were able to meet Emile at his remote post in Afghanistan and speak with him on the phone. He later returned to the United States where he gave a lengthy statement to the police and took a polygraph test.
Roldan informed the police that he did not notice Bethany's disappearance because he thought she had gone to live with her parents while he had gone back to his mother's house, which seemed quite strange since the two were in a relationship and he knew she was pregnant.
When asked about the car, he also gave evasive answers. Even after the search and seizure warrants were issued, answers were still lacking.
There was no evidence that Bethany ever gave birth, or even went to any health care facility. The case remained stalled until 2014.
"We feel that we have already interviewed people in this investigation who probably have information that we would like to have, and we are still reluctant to pass that information on. So we are hopeful that as the days go by they will realize that if they have information, no matter how insignificant they think it is, they will give it to us."

Sheriff Steve Simpson told a local newspaper in late 2011.
Ronald Roldan attacks new girlfriend
Ronald Roldan remained in Virginia for several years after the disappearance of Bethany Decker. In 2014 he began another relationship with Vickey Willoughby, a woman he met at a restaurant. She said that Roldan later became controlling, and that she tried to escape the relationship by moving to North Carolina, but Roldan found out and followed her there.
Upon being physically assaulted by Roldan, Vickey pulled out a gun that she had hidden in the room for protection. She was able to shoot Roldan twice, although he continued to struggle and eventually gained control of the gun, shooting Vickey three times, once in the head.
Both survived, although Vickey Willoughby lost one of his eyes due to the head wound.
In May 2016, after some of the evidence in the case was suppressed, Roldan accepted a plea deal. He pleaded guilty to two counts of assault and was sentenced to eight years in prison. Immigration and Customs Enforcement planned to begin deportation proceedings to Bolivia, but he never returned.
Confession
On November 17, 2022, Roldan pleaded guilty to second-degree murder in connection with the disappearance of Bethany Decker. He said he placed her body in a garbage bag along with Christmas tree scraps and threw her into the trash compactor at his compound. No trace was ever found.
On February 21, 2023, Roldan was sentenced to 40 years in prison, the maximum allowed for second-degree murder.
As part of a deal with prosecutors, Roldan agreed to record his account of the murder. He stated that he tried to revive her, but she was dead. He said he became afraid, panicked, and never called 911.
Even though Bethany has received justice, the case remains with many loose ends. Emile told the media that he does not want to return to this issue, but that his lawyers are always available for clarification. He has never commented on Bethany's second pregnancy.
Roldan's account of his ex-girlfriend's death never led to the collection of any evidence or witnesses. Some people believe that Roldan only confessed after police pressure to close the case.